Tartele cu mousse de ananas sunt desertul perfect pentru orice moment al zilei. Avem un desert la care profitam atat de gustul bun al compotului de ananas de la Sun Food Fructe si Legume, dar si de fructele din acesta. Se pregateste usor si se termina repde. 🙂
INGREDIENTE:
(pentru 7-8 bucati)
Pentru blat:
200 g faina
50 g fulgi de migdale
120 g unt
1 galbenus
50 g zahar
1 praf de sare
4-5 linguri apa
Pentru mousse:
2 oua
50 g zahar
1 plic zahar vanilat
1 lingura amidon
150 ml suc din compot de ananas
100 ml frisca lichida
Pentru decor:
7-8 bucati ananas din compot
frunze de menta
PREPARARE:
Pentru a pregati blatul amestecam faina, fulgii de migdale macinati, untul, zaharul si un praf de sare cu mana. Adaugam apoi galbenusul batut si treptat lingurile de apa (punem apa astfel incat aluatul obtinut prin framantare sa fie putin moale, elastic, usor de manevrat). Lasam aluatul in frigider 30 de minute, apoi il intindem, il decupam dupa marimea formelor, apoi il intepam cu furculita. Peste aluat punem hartie de copt si boabe de fasole sau orez, astfel incat sa nu se umfle prea mult.
Cat timp aluatul sta la rece incepem sa pregatim crema. Mixam in jur de 5 minute zaharul tos si cel vanilat cu ouale.
Cand devin o spuma ce si-a dublat volumul incorporam amidonul.
Adaugam apoi 200 ml din sucul compotului de ananas, amestecam si punem la foc mic sa fiarba, avand grija sa mixam in acest timp pana incepe sa se ingroase (mixam la viteza mica-medie cat tinem pe foc pentru a nu se prinde de fundul vasului).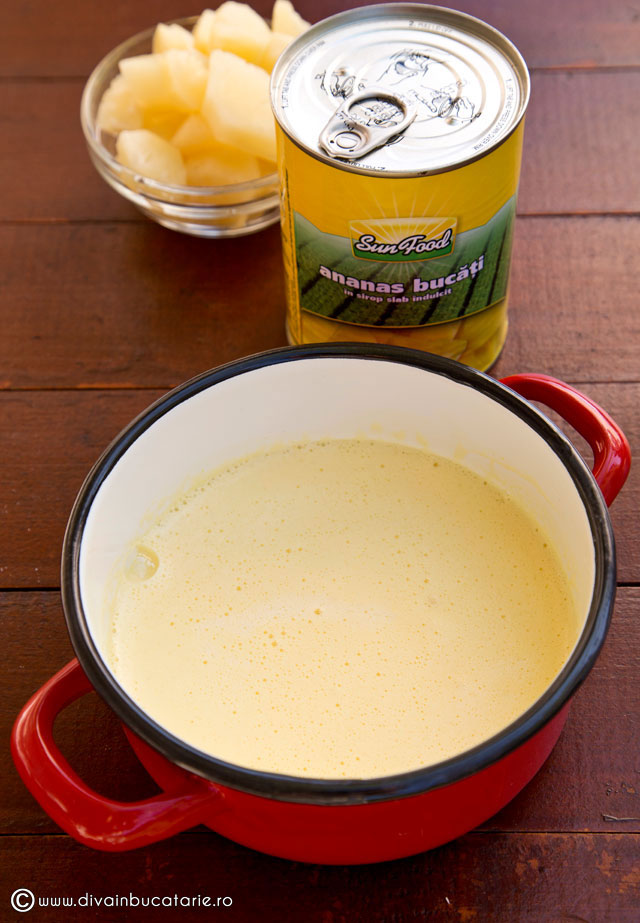 Luam de pe foc, lasam sa se raceasca la temperatura camerei, apoi dam la rece pentru 30 minute. Batem frisca in acest timp pana se intareste (dar nu prea tare, pentru a ca devine ca untul si nu o putem folosi).  Amestecam crema racita intre timp cu frisca.
Umplem tartele racite cu crema, apoi decoram cu fructe si frunzulite de menta.
Sunt pur si simplu delicioase! Spor la pregatit tarte cu mousse de ananas!
Sa aveti pofta!
English version:
INGREDIENTS:
(7-8 pieces)
For the dough:
200 g flour
50g flaked almonds
Butter 120 g
1 yolk
50 g sugar
1 pinch of salt
4-5 tablespoons water
For mousse:
2 eggs
50 g sugar
1 sachet vanilla sugar
1 tablespoon starch
150 ml juice from canned
100 ml liquid cream
For decoration:
7-8 pieces of pineapple compote
mint leaves
To prepare the pastry casing sift flour into a bowl and add chilled butter  cut into small pieces add a pinch of salt and almond flakes (grind, like a flour), then stir to coat the butter with flour. Using your fingertips, quickly and lightly rub the butter into the flour lifting the mixture to incorporate air, until the mixture resembles fine bread crumbs. Sprinkle the water over the mixture and gently stir with a table knife to mix. If mixture seems to dry add a little more water. Gather the mixture together and knead very briefly until smooth. If dough feels sticky add a little more flour. Shape into a ball, wrap in cling film and chill in fridge for 30 minutes. Roll the dough out and line the cake tin pressing the pastry gently into the cake tin. Prick the base of the pastry case all over with a fork then line the tin with foil and fill with baking beans to weigh down and stop the pastry rising. Cook for 10-15 minutes remove from oven and remove foil and beans. Return to oven and cook for a further 15 minutes. Leave to cool.
To make the cream filling mix the sugar, eggs and vanilla together and beat these together until the mixture has doubled in size then lightly stir in the starch. Add 200ml of pineapple juice and compote mix and put on a low heat. Continue to gently mix over a low heat until it has thickened then take off the heat and leave to cool to room temperature. Beat the cream until it reaches soft peaks, and not too stiff, and gently fold into the cream filling. Fill the tart cases with the cream filling and decorate with fruit and mint leaves.
They are simply delicious!